Three events, one weekend, and a new member of the Archery GB family!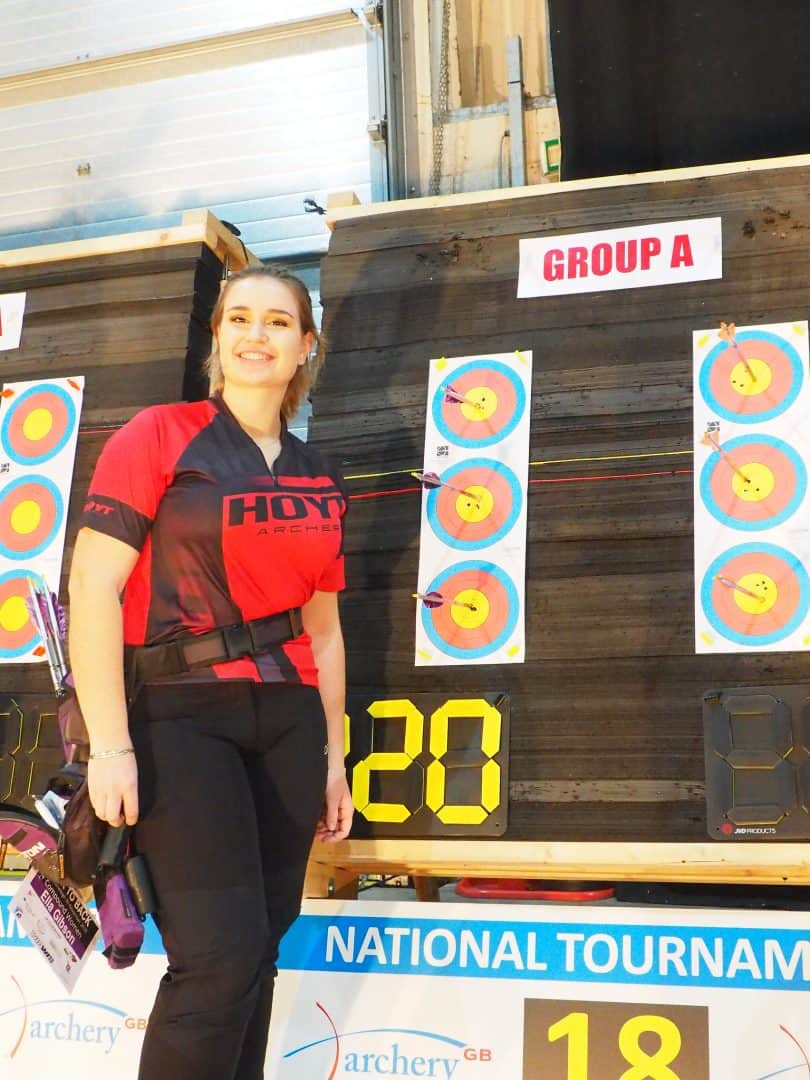 Juniors
We began the day by introducing Archery GB's newest member, Fletch the Lion! We wanted to say a massive thank you to everyone who made Fletch feel welcome and part of the Archery GB family.
With 29 individual categories, there were a lot of very happy faces at the end of the day. England took the Home Nations title for 2019, consisting of Lauren Rawlings, Yusuf Ali, Monty Orton, and Dru Ridding. Megan Costall, Molly Lessimore, Ioan Rees and Ben Weston made up the Welsh team in second. With Scotland in third, Lucy Coutts, Euan Pride, Cameron Radigan, and Jonathan Ralston.
The overall highest scores for each bow style went to;
Amelia Chumber, Barebow Junior Ladies U14 with 541, scoring the most across the whole of the Barebow category.
Riley Spencer-Nice, Recurve Junior Gentlemen U16, with 585.
Jade Ledwick, Longbow Junior Ladies U16 scoring 394.
Ajay Scott, Compound Junior Gentlemen.
A special thank you to Wales Archery for their continued partnership with Archery GB Youth Competitions.
Full results can be found here: https://www.ianseo.net/Details.php?toId=6515
Seniors
Ella Gibson, Compound Ladies Champion, explained, Â"I'm good, I'm happy, I had a nice run of matches, really happy with the scores from it, and it was nice to still finish strong even though I feel really tired because it's been a long day." This was Ella's fourth weekend in a row where she has podiumed after getting the new World Record at the GT Open the weekend before.
The Longbow Ladies Champion, Sheila Hudson, told us, Â"What a struggle it was this year! Up against some good competition, but finally managed after a tight final to get through, so pleased to win that."
Regular GB team member and the 2019 Recurve Ladies Champion, Sarah Bettles said, Â"I feel really good, really happy. It has been a good day shooting. I started off really well this morning, and I'm happy with how I shot in qualification. I haven't really had a huge amount of time to practice 18 meters, so to still be shooting well is quite good. I shot really well throughout all of my matches, so I'm also happy with that."
Warwick University student Kai Thomas-Prause won the Compound Gentlemen Champion title. He told us, Â"I'm happy to win this, a lot of work has been put in over the last year, so I'm really happy with this."
James Woodgate, the 2019 Champion in the Recurve Gentlemen division explained, Â"Great, I wasn't expecting it at all, so it's a really nice surprise. Just goes to show that the technic that I've been working on is working out for me."
Ian Stowell stole the show by turning up in a full suit (bowtie and all), but there was a very beautiful reason behind it, for his mother. Ian took home the Longbow Gentlemen's title for 2019 and spoke to us after, Â"I'm actually ecstatic, because my mum passed away in October, and the way I'm dressed is because it was in remembrance to her. When I got into the final, it's the first time I cried since she passed. I predicted it was going to go to a one arrow shoot off, and it did! As I stood there, I went 'come on mother', and it went. It's my fifth year of shooting, and I've taken it. I enjoyed every second of it, so thank you very much."
Full results can be found here: https://www.ianseo.net/Details.php?toId=6526
Back2Back
This year was the ninth edition of the Back2Back, and big names wanted another go at the title. The Back2Back is two rounds of round-robin head to heads. Each archer will shoot against each person in their group, usually five other people. The final is then a shoot up format, the X ring scoring an 11 for Compound and 10 ring scoring 11 for Recurve.
Stephan Hansen, Mads Knudsen, and Martin Laursen all came over from Denmark to compete at this event. Stephan commented that he enjoys this event a lot when he comes to it because it helps prepare for events such as the Indoor World Series with the head to head format.
Stephan ranked first for the Compound Men through the group stages after scoring 596 twice, in the form of five head to heads. This meant that Stephan only had one head to head in the final, walking away with the win over Domagoj Buden. Â Chris White finished in third after losing 128-132 against Domagoj.
Ladies Compound saw Sarah Prieels take the win over Layla Annison, just like 2018. Sarah, just like Stephan, ranked first going into the shoot up, therefore only had one head to head to shoot. Her opponent, Layla, had to shoot her way up from fourth place and second match. Sarah took the win 128-126. Ella Gibson took third place with a 125-127 against Layla.
Bryony Pitman went into the shoot up ranked first, and again, took first place against Louisa Piper and Jaspreet Sagoo in third. Bryony scored 582 and 587 in the ranking round head to heads, followed by a 126 in her final head to head, which was the highest in the finals. Both Louisa and Bryony won all of their matches during the day.
Tom Hall, the 2018 winner for the Recurve Men, took the title again against James Woodgate. Tom also ranked first in the ranking head to heads and finished first. James Woodgate shot his way up from fourth place, just like Layla, to get to the final, but shot a 117 to Tom' 121.
Full results can be found here: http://back2back.mjtamlyn.co.uk
Thank you, as always, to all of our sponsors for such an incredible weekend again.