Adam Ravenscroft and Sarah Prieels are the 2017 Archery GB National Series compound champions!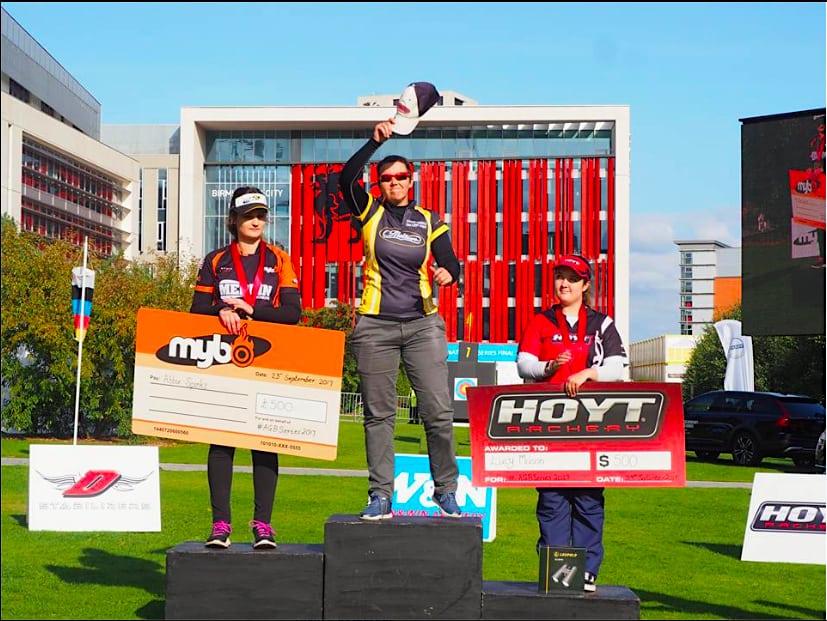 After a thrilling day of shooting - and shoot-offs - this year's victors were decided in front of crowds of onlookers at the Eastside City Park, right next to Millennium Point, Birmingham.
The finals kicked off with the women's quarter finals. First up were top seed Lizzie Foster, who won four out of the six National Series stages, and Abbie Spinks - and it was Abbie who took the win in a dramatic shoot-off. It set the tone for an eventful day.
Susan Corless beat Nat Merry 140-129 to set up a showdown with Abbie, while Sarah beat Lucy O'Sullivan 143-137 and Lucy Mason defeated Daisy Clark 145-135.
There was only one point in it as Abbie beat Susan in the semis and only two points as Sarah edged past Lucy to secure her place in the gold medal match. Once there though, she showed no mercy, taking the 2017 title with a 146-138 win over Abbie.
Lucy took bronze with a 146-143 win over Susan.
The men's competition also started with a shoot-off - and this time it was top seed Adam Ravenscroft who defeated Mike Kells after a tough match. He later said: ¬"Mike put me through a finals match in this round.¬Ē
It earned him a semi-final tie with Chris White, who defeated Simon Froggatt 144-141. The other semi final was fought out by James Mason, who had earlier defeated Daniel Tompkins 145-138, and James Howell, who ended Carl Richards's challenge with a 146-135 win. And the battle of the Jameses also ended in a shoot-off with James Mason shooting a 10 to James Howell's nine.
It was not going to be the last. The bronze medal was also decided in a one-arrow showdown. Both Chris White and James Howell shot 140 and both shot a 10 - but it was James's arrow that was marginally closer to the centre, giving him the bronze.
The men's final was equally thrilling as Adam and James Mason, both at the top of their game, went head-to-head. In the end, Adam edged ahead to secure the title with a 146-142 win.
You can find all the results here.
Tomorrow it's the turn of our recurve challengers. They are:
Sarah Bettles v Sarah Smith, Naomi Folkard v Bryony Pitman, Lizzie Warner v Sally Gilder, Jaspreet Sagoo v Johanna Meyer
Tom Hall v Keith Harding, David Timmins v Alex Wise, Patrick Huston v Michael Judd, Jack Masefield v Ashe Morgan
We would love you to be part of it. If you can, come along and join us at Eastside City Park. It's a great day out and is being supported by Birmingham City Council. There's even a have-a-go - and it won't cost you a penny to be part of it.
Here's everything you need to know to join us:
Event location: Eastside City Park, Curzon St, Birmingham B4 7AP
Nearest rail: Birmingham New Street  14 minute walk
Car: Parking Saturday only Curzon Street Car Park
Parking: Millennium Point accessed via Jennens Road  Link to website
Millennium Point is signposted throughout the city follow the brown signs.
And if you cannot be there you can still follow the action on our social media links:
Instagram: archerygbofficial
Facebook: Archery GB
Twitter: @archerygb
Above: Women's compound champion Sarah Prieels  with Abbie Spinks and Lucy Mason. Picture: Malcolm Rees.