There were thrills, spills and some spectacular shooting as the Archery GB National Series kicked off in style today.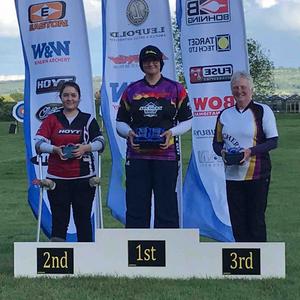 Stage one of the competition, hosted by Evesham Archers at the Badsey Recreation Club in Worcestershire, attracted 210 entrants. Every one of them was eager to earn series points and medals, or to test themselves against archers at the top of their game. And there were some very tight contests.
Johanna Meyer of Edinburgh University took first blood in the women's recurve competition. The fifth seed saw off a challenge from Klara Fay and then notched up 6-4 victories over Emily Bryant and Eva Henderson-Hirst before coming up against Sally Gilder in the semi. She won that 6-0 to earn a gold medal showdown with Kate Dunnighan.
Kate, of Cleadon Archers, qualified in third spot. She also won a series of 6-4 victories over Samantha Payne, Rachel Vines and Thea Rodgers. Before beating Lizzie Warner 6-0 in their semi. And the result of the final was, of course, 6-4 in Johanna's favour. Lizzie won the battle for bronze, beating Sally 6-0.
The first men's recurve title of the series went to David Timmins. The Oxford Archer qualified in 16th spot but then hit form to defeat Chris Reid 6-0, Ryan Holden 6-2, top seed Ryan Pinder 7-3, Stuart Barby 6-2 and Francis Berti 6-0 to earn his place in the gold medal match.
There he faced Thomas Nairn. The 15th seed, from Alsager Company of Archers, had a great run, beating Connor Gallagher 6-2, Alex Smith 6-2, second seed Guy Matzkin 6-0, Morgan Donaldson 6-0 and three-time Olympian Larry Godfrey 6-4. But he could not get the better of David, who took the honours with a 6-0 win. And there was no way Larry was leaving without a medal. He beat Francis 6-0 to take bronze.
Who is top of the women's compound series rankings at the moment? Lizzie Foster. She also qualified in 16th spot but the Durham University archer then defeated Julie Chenery 131-125, top seed Susan Corless 138-132, Kirsty Robb 133-131 and Hollie Smith 134-124. That put her in the gold medal match against Lucy Mason.
The Deer Park archer and defending champion had swept past Verity Gray 127-113, Nicky Hunt 140-131, second seed Lucy O'Sullivan 132-125 and Pauline Burfitt 133-126 to earn her place but had to be satisfied with silver. Pauline took bronze with a 127-125 win over Hollie.
There was some stunning shooting in the men's category as sixth seed Carl Richards battled to victory. The Meriden archer defeated Jason Sargeant 137-128, William Davis 143-126, Kai Thomas-Prause 126-125 and Michael Kells 142-137 to reach the final and the chance to go head-to-head with Simon Froggatt.
Simon, of Sherwood Archers, battled past Sam Rees 140-116, Duncan Busby 138-134, Wayne Evans 137-131 and top seed James Howell 140-138 to earn his chance of gold. And it was so close, Carl eventually edging it 135-134. Michael also beat James by a single point to take bronze.
You can find all the results here.
And the really good news? Stage two is being held tomorrow!
You will be able to follow the Stage 2 results here
Follow us on:
Instagram: archerygbofficial
Facebook: Archery GB
Twitter: @archerygb