The first stages of the 2018 National Tour - the new name for the National Series - kicked off at Lilleshall in record-breaking style as top recurve seed Patrick Huston smashed the British record for a 70-metre round with a score of 687 points on day one.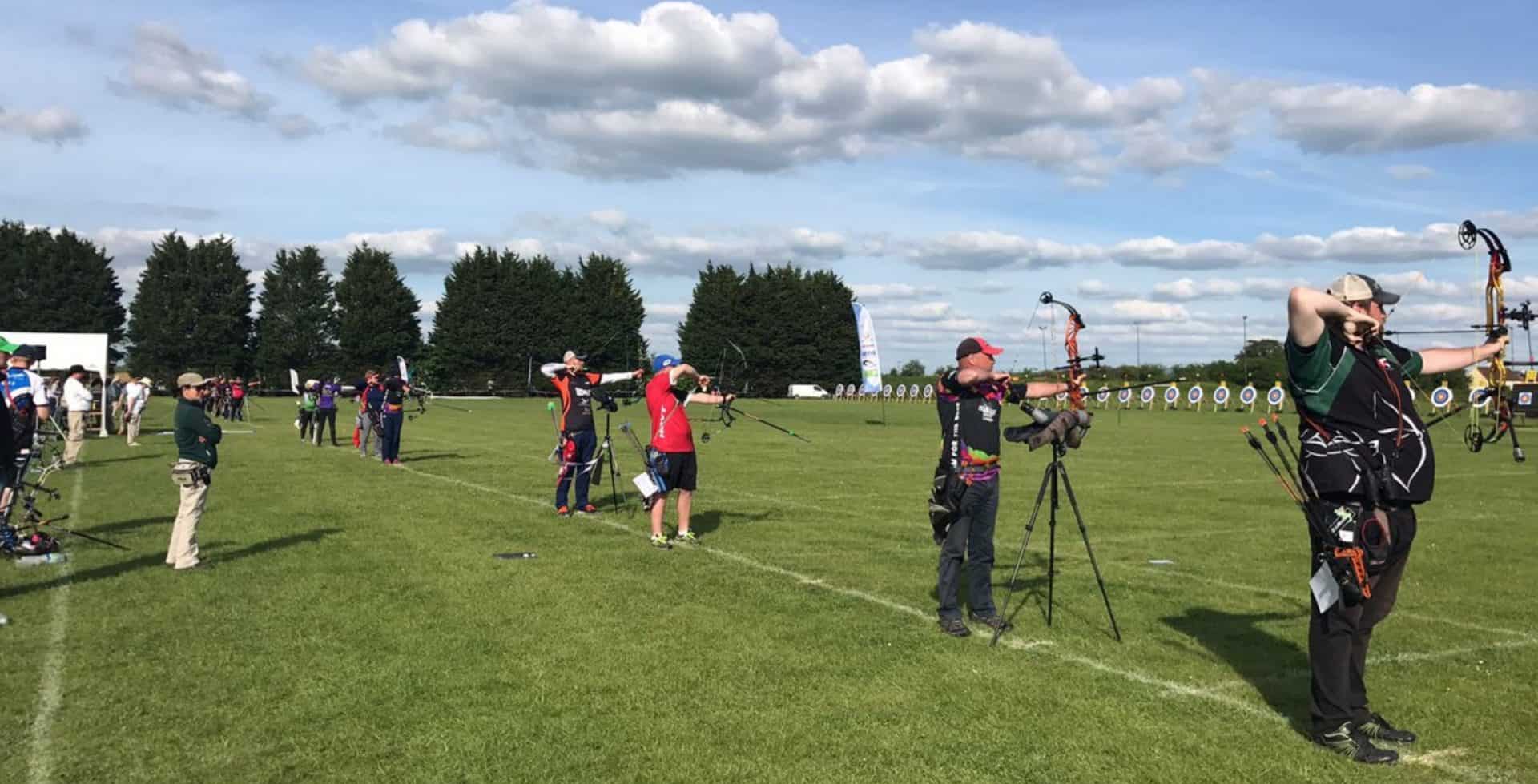 But it was Conor Hall who went home with stage one recurve gold after a hard-fought campaign.
Conor, ranked fourth after qualification, beat Gareth Thomas-Prause and David Phillips, Thomas Nairn and Michael Judd. Then he met Patrick - and there was no shortage of drama in their semi-final showdown. The scores were level after five sets, forcing a shoot-off...or two. In the first Patrick shot a 10 and Conor hit the X. In the second both archers hit a nine but it was Conor who got the nod.
That brought him face to face with second seed Tom Hall. He secured his place through victories against Andy Smart, Mark Smith, Ryan Pinder, Anthony Wood and Joe Fairburn. But Conor was in unstoppable form and secured gold with a 6-2 win.
There was still plenty of drama - and shoot-offs - to come at the event, which was held as part of the Bucks or Bounty tournament.
The battle for recurve bronze ended all-square, which forced a decider between Patrick Huston and Joe Fairburn. Both shot a nine but Patrick edged closer to the centre to take the medal.
The women's recurve title was also decided by a shoot-off. In fact seventh seed Alyssia Tromans-Ansell battled through two before reaching the final. After a bye into the last 32, she beat Rachel Vines, Izabella Booth in the first shoot-off, Eleanor Piper and Yulia Larkins in the second. That left her facing top seed Sarah Bettles who had seen off Eugenia D'arcy, Lisa Cooper, Rebekah Tipping and Kate Dunnighan.
After a finely balanced final, it all came down to a single arrow. Sarah shot an eight but Alyssia went one better to secure gold. Yulia took bronze with a 6-2 win over Kate.
The compound categories were just as keenly fought. In the men's competition, eighth seed John Stubbs battled past Rob Lewington, Rhys Harper, Adam Shaw, top-ranked Chris White and Adam Ravenscroft to secure his shot at gold. The Paralympian faced third seed James Mason who had, in turn, beaten Steven Peake, David Bramley, Liam Peake, Michael Kells and Stuart Taylor. And it was James who eventually secured gold with a 146-141 win while Stuart beat Adam to bronze.
There was a showdown between the top two seeds in the final of the women's competition. Leader Sarah Prieels beat Jill Brown, Paralympians Jodie Grinham and Jess Stretton and Lucy Mason to reach the final. Lucy O'Sullivan defeated Paige Jones, Susan Corless, Abbie Spinks and Layla Annison to earn her place. But it was Sarah who took the title with a 149-141 win and Layla beat Lucy Mason to bronze.
In the recurve cadet categories, top seed Dan Thompson beat Jack Tucker and Gabriel Beese-Raybould to set up a title showdown with Austin Whitmarsh, ranked eighth. He, in turn, had overcome challenges from Kian Watkins, Riley Spencer-Nice and a shoot-off against second seed Thomas Susca. Austin put up a spirited defence in the final but Dan took gold with a 6-3 win. Gabriel beat Thomas to bronze 6-4.
Ruby Paul led the women's competition from the start. She defeated Heike Palmer, Emily Coughlin and Molly Peter to set up a title clash with Penny Healey who had, in turn, beaten Rhiannon Easton, Shaimaa Abdelhalim and Hannah Rowley. Both archers were determined to claim the title and it was close…but the top seed eventually took it with a 6-4 victory. The bronze medal match was even closer. Molly and Hannah tied the match, forcing a shoot-off. Hannah shot an eight but Molly took it with a nine.
In the others category, Ian Burton beat Graham Peters 6-0.
More than 250 archers took part in stage two of the competition. The top finishers in each category were:
Recurve men: 1, Tom Hall; 2, Alex Smith; 3, Alex Wise.
Recurve women: 1, Eleanor Piper; 2, Sarah Bettles; 3, Bryony Pitman.
Compound men: 1, Adam Ravenscroft; 2, Duncan Busby; 3, Stuart Taylor.
Compound women: 1, Sarah Prieels; 2, Layla Annison; 3, Lucy O'Sullivan.
Recurve cadet men: 1, Dan Thompson; 2, Gabriel Beese-Raybould ; 3, James Woodgate.
Recurve cadet women: 1, Ruby Paul; 2, Penny Healey; 3, Molly Peters.
You can find out more about Bucks or Bounty here.
And you can find all the results here:
Above: Record breaker Patrick Huston. Picture: Malcolm Rees
Follow us on:
Instagram: archerygbofficial
Facebook: Archery GB
Twitter: @archerygb