Archers from all over the UK gathered at the Surrey Archery Weekend for stages two and three of the 2019 National Tour. And they were all determined to make their mark, resulting in hard-fought matches.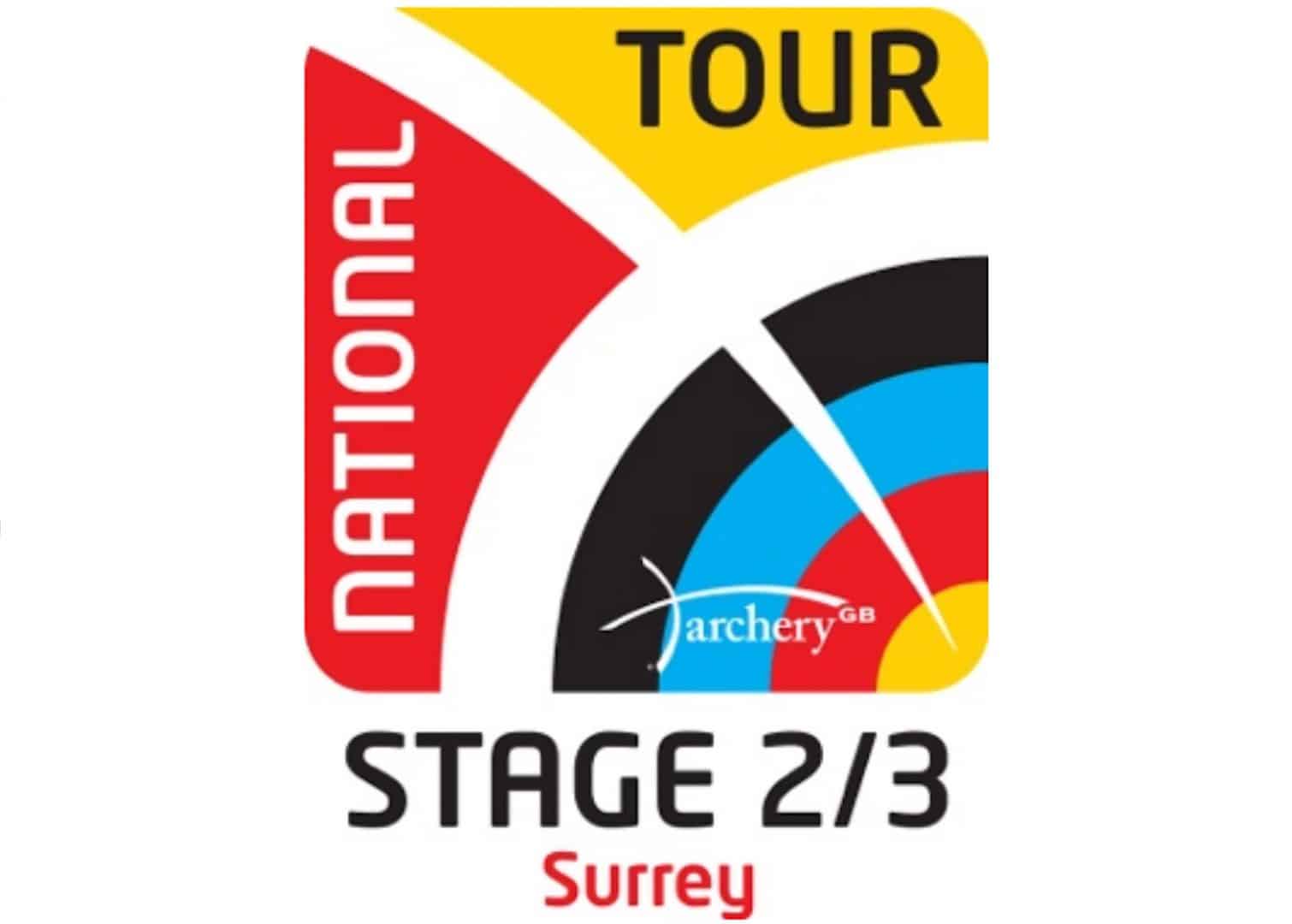 Stage 2
A shoot-off decided the women's recurve gold medal as top seed Jaspreet Sagoo faced Ruby Paul. Jaspreet had seen off Lauren Rawlings 6-2, Wendie King 6-4, Sally Gilder 6-0 and Yulia Larkins 7-3 to secure her place. Ruby, seeded third, defeated Shauna Punjabi in a shoot-off, Katya Sephton 6-2, Hannah Rowley 6-2 and Kate Dunnighan 7-3.
The scene was set for an epic showdown - and they did not disappoint, ending the match tied. That forced the shoot-off. Ruby hit a seven but Jaspreet went one better to take the honours. And the bronze match was just as tense, Yulia just edging ahead of Kate to take a 6-4 win.
Keith Harding hit a fine run of form to win men's recurve gold. He beat William Thompson 6-0, Daniel Thompson 6-2, Richard White 6-4, Ryan Pinder 6-2 and top seed Jacob Reid 6-2. That left him facing Conor Hall who had seen off Chris Reid 6-0, Howard Moore 6-0, Jakob Barrett-Rees 6-4, Cameron Donaldson 7-3 and Antony Wood 6-2. He fought hard in the final but Keith eventually proved too strong, winning 6-2. Jacob took bronze with a 6-0 win over Antony.
Only one point separated first and second in the women's compound category. Sarah Prieels beat Jessica Nilsson 142-136, Elizabeth Martel 141-129 and Jenny Bryan 145-138 to reach the gold medal match. Her opponent was Bayley Sargeant who had seen off Rosemary Preece 141-120, Carla Bolou 132-124, Lucy Mason 141-140 and top seed Ella Gibson 144-142. The battle for gold could not have been closer - but experience told and Sarah finally edged ahead to take a 141-140 win. Ella took third spot with a 142-132 win over Jenny.
Domagoj Buden stormed to the compound gold medal match, beating Liam Wright 144-135, Adam Shaw 145-143, Matthew Wong 147-142 and Duncan Busby 147-141. Challenging for the title was Mark Rudd who beat Jamie Love 141-136 and Lewis Haslam, Adam Carpenter and Adam Ravenscroft in shoot-offs. The title clash was a different story though as Domagoj clinched a 146-138 win. Top seed Adam beat Duncan by a single point to take bronze.
You can find all the results here.
Stage 3
Compounder Sarah Prieels did the double. The top seed beat Teresa Moon 138-123, Elizabeth Martel in a shoot-off and Bayley Sargeant 134-133 to set up her second gold medal match of the weekend. This time her opponent was second seed Lucy O'Sullivan, who saw off Lydia Sinnett-Smith 137-130, Stephanie Clason 137-136 and Victoria Barby in a shoot-off. Each athlete turned in a great performance but Sarah eventually edged ahead to take the honours. And there was only one point in it as Bayley beat Victoria to bronze.
Compound men's honours went to James Mason. The second seed swept past David Martel 144-136, Sam Rees 144-137, Louis Perkins 144-139 and Neil Bridgewater 142-139 to secure his shot at gold. There he faced Duncan Busby, determined to improve on stage two's fourth place. The eighth seed had beaten Neil Laszkowicz 140-139, Carl Richards 145-140, Domagoj Buden in a shoot-off and James Howell 138-137 but could not overcome James who won 146-139. Neil beat James by a single point for third spot.
Recurver Yulia Larkins went from stage two bronze to stage three gold. The fourth seed beat Heather Hughes 7-1, Petra Ginman 6-4, Kayleigh Ivanov 6-0 and Rachel Moon 6-0. That set up a gold medal showdown with Rebekah Tipping. The third seed had defeated Rosemarie Delaney 6-0, Rachel Vines 7-3, Sarah Russell 7-1 and Jennifer Collins 6-2 but had no answer for Yulia, losing 2-6. Rachel beat Jennifer to bronze.
The men's title went to 12th seed Sonnie Emeney. He saw off Jamie Diep 6-2, James Jaxkson 6-2, Morgan Donaldson 7-3, Gilbert Jamieson 6-4 and Chris Avins 6-2. The other title challenger was 14th seed Michael Judd. He defeated David Ellis 6-0, Ben Trudgill 7-1, Thomas Nairn in a shoot-off, John Prior 7-1 and Gavin Hayden in another shoot-off before losing 0-6 to Sonnie. The bronze medal went to Chris Avins.
Find the stage three results here,
The National Tour is supported by:
Gold Sponsors
Silver Sponsors