The last day of qualifications at the World Archery Para Championships is complete, with Recurve Open, W1 and VI1 divisions.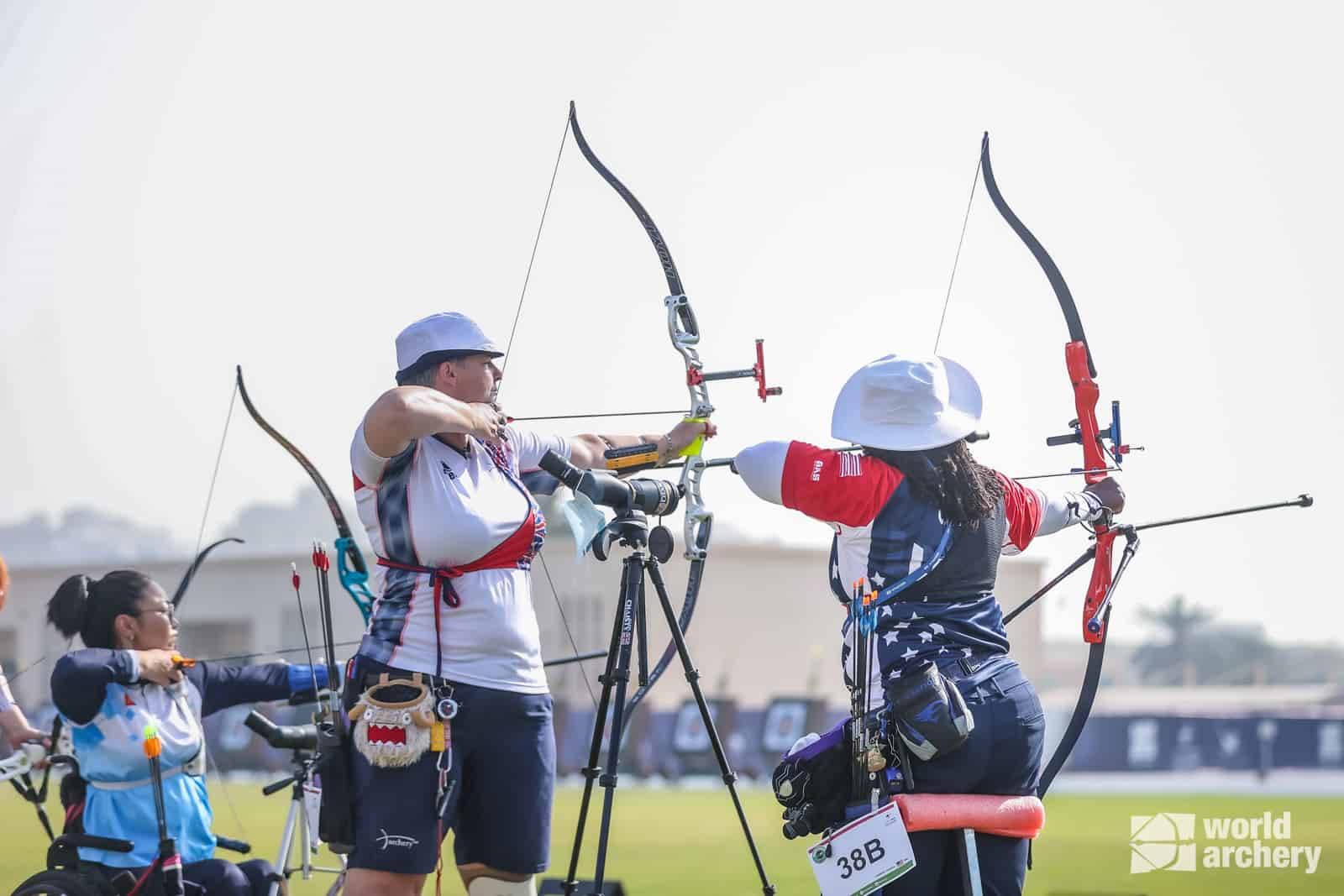 Recurve Open, W1 and VI1 qualification day is done at the World Archery Para Championships. The new doubles team, mixed team and individual rankings are ready for tomorrow's eliminations.
Recurve Women Open
Hazel Chaisty commented on her performance, "This is the first time I've gone into a major event with my goal set at 'be happy'. And I've truly enjoyed this ranking round over every other event I've been to. I didn't look at my score until the end and was pleasantly surprised to have finished ranked eighth. And in great shape for the head-to-heads."
Senior Recurve Coach, Charlotte Burgess commented," Today has been a morning of strong sun for Hazel. She shot well and followed her process and routine. Hazel had Covid over the Christmas period and took a while to recover her strength and endurance. So today was a great test."
Hazel will shoot in the Recurve Mixed Open with Dave Phillips. Starting eliminations in eighth-ranked, they will shoot against Japan.
Recurve Men Open
Dave Phillips explained that his performance was "really exciting to once again shoot outdoors at a World Championship tournament."
With debutant Cameron Radigan telling us, "With this being my first international competition with the GB team, it was exciting to shoot with such amazing archers in an amazing field."
Charlotte, their coach, told us "the afternoon session with the recurve men had a tricky and varied wind. If you have not shot in a stadium before, it can be quite challenging to read and make adjustments. Dave is very much looking forward to shooting head-to-heads and teams as he thrives under pressure. Cameron has been learning and taking in all the experiences of his international debut. Today he shot a PB, which is totally great for him and his confidence going into head-to-heads."
Dave and Cameron will shoot in the doubles team. They are already pre-seeded into the top eight as they ranked fourth.
W1 division
GB sent two athletes in the W1 division, Martin Saych and Victoria Kingstone. Shooting this morning at the same time as the Recurve Women Open in the sun.
Martin, who is currently ranked 11th in the world, ranked 19th with a score of 607. In the matches, Martin is set to face 14th seed Jean Pierre Antonios of Finland.
With Victoria ranking eighth in the W1 women's with a score of 569. Victoria will face ninth seed Fatma Danabas of Turkey in her first match.
Victoria and Martin will shoot in the mixed team tomorrow against Turkey.
VI1 qualification
GB sent three VI1 archers to the World Archery Para Championships. Stuart Rodgers ranked 14th, Clive Jones in 13th and Roger Rees-Evans in 10th.
For full results on recurve open, W1 and VI1 qualification, see here.
Also, make sure to tune into our social media channels and World Archery for the Compound Open medal matches.