Archery in Notts, the legacy project created as part of the European Archery Championship held in Nottingham in May, has been shortlisted for the Nottinghamshire Sports Awards Sporting Project of the Year.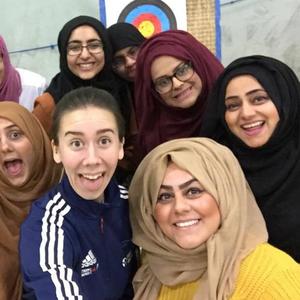 Highlights of the project have included:
Engaging 15 community groups in Arrows archery. Sixty-four hours of archery were delivered with non-sporting adult community groups, allowing over 230 individuals who would not normally have the opportunity to take part in the sport of archery.
Giving more than 7,000 individuals an archery experience. Notable events included Light Night in Old Market Square, where 400 people tried the sport, and Arnold Hill Carnival at Arnot Hill Park.
Leisure centre archery. Through the project three new leisure centres now offer weekly archery sessions to the general public: Calverton, Kimberley and Southglade leisure centres. To date, over 171 people have been engaged through these centres, with over 100 hours of archery delivered.
Archery for young people. Allowing 108 young people to take part in archery in new locations through the support of Sport Nottinghamshire's Sportivate funding. Taking archery to the schools and delivering more than 10 blocks of Sportivate sessions throughout the county.
First Nottingham City archery school games. Old Basford, Ambleside and Whitemoor Academy took part in six weeks of Arrows archery sessions, rounded off with the first School Games Arrows Archery competition in Nottinghamshire.
Arran Coggan, Development Manager (Participation) said: "The project, led by Amy Curnock, has done a wonderful job to create more opportunities for archery in Nottinghamshire. The shortlisting of the project is testament to Amy's dedication and the support of Nottinghamshire Archery Society, especially Mike Spare, and local partners.
"For many within the project. archery has now become a part of their weekly lives."
Amy said: "Some of the participants were trained as instructors and now deliver sessions. Some have gone on to join a club and some have just experienced a sport that they never thought they would have the opportunity to try."
The Archery in Notts project aims to create a lasting archery legacy. By creating many new opportunities, that legacy will live on through the clubs, leisure centres and community groups. It is well on its way to achieve this aim.
The winners of the Nottinghamshire Sports Awards will be announced on 1 February 2017.
Follow us on:
Instagram: archerygbofficial
Facebook: Archery GB
Twitter: @archerygb