It's 7 days to go until Start Archery Week begins on 6 May, so it's time for that final push of organisation and ideas.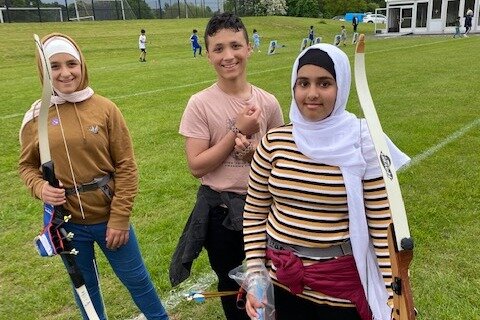 You've probably downloaded the Start Archery Week Checklist and have been working through it, but just in case, here are seven things to make sure you've thought about and planned before the big day:
1. Assign volunteer roles
You don't want people arriving while you're still setting up, so the team organising set up are probably the most important. Make sure there's enough people to put out your bosses and set up your bows and equipment without having to rush.
Have you got someone with a cool head to keep an eye on the car park and make sure it's not going descend into chaos? You're going to want to tell the world how successful it was, so what about asking one of your members to take photos during the event?
Archery GB value having up-to-date images from a wide selection of locations, which we can then use to promote the sport. Please send in your Start Archery event photos and/or videos!
2. Alert the press
Have you filled in a press release and sent it to the local media? Newspapers, advertising papers, radio and local councils should all be alerted to the fabulous event you're going to be putting on. Invite them along, and if you do get local media interested on the day, ask if they can share copies of their photos with you.
Download the Start Archery Week template press release here:

3. Social sharing
One of the best advertising tools you have is the internet. Download the A4 Start Archery Week poster, fill out the details and then share it far and wide. Ask your members to help share it with their family and friends, to local Facebook groups and local event pages. You can send it to local businesses and schools, too, and ask if they'll put it up or share it in their newsletters.
Download the Start Archery Week poster in English here:
EnglishWelsh
We've also created a social media toolkit with some suggested wording for your posts. All you need to do is supply the photos!
Social media toolkit
We'd love to see your posts and we'll try and share as many as we can. Tag us using the #startarcheryweek hashtag.
4. Add the details to your website
Don't forget to add details about the event to your own website! Make sure you add the following:
Where is it going to be including postcode (if your venue is a bit hard to find via sat nav, consider adding a What Three Words location to the information)
What time it starts and finishes
Where people should sign up
Any cost to the public for attending.
Also add a sentence or two about what'll be happening on the day – fun, games, refreshments, etc. Keep it short, succinct and positive.
5. Kit maintenance and final checks
Before the event, lay out all your kit and go through it piece by piece, checking for any damage or items that need repair. Have one team of volunteers work on maintenance – strings that need to be waxed, or arrows that need to fletched – and have another cataloguing all the kit and then packing it away. Having a list of what you have and where it is will make it easier on the day to find things when you need them quickly.
Check you have enough signs: do you need any more warning signs or "event this way" posters? Take a walk through a member of the public's journey to your event and make sure you have enough signage to cover each point where they might get confused.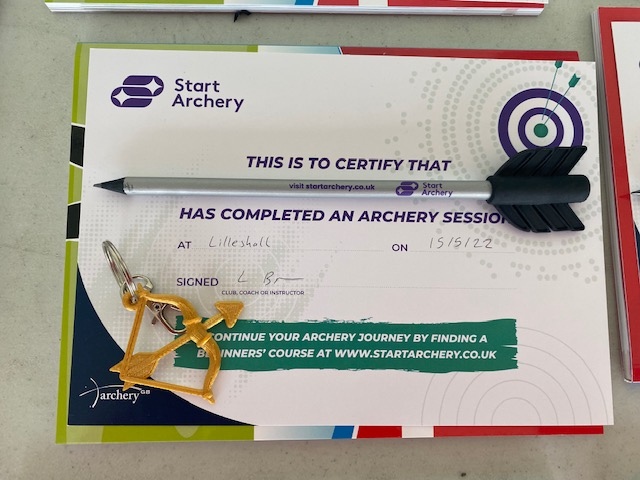 6. Registration forms
Download and print off copies of the registration form so you can collect participants details and submit them to Archery GB. For a club, this is a great way to build your contacts list, so later you can share details about your beginners' courses and club events, and participants who leave their name and email could win a £50 Amazon voucher. They can also tick to receive email support from Archery GB with information aimed at beginners, hopefully continuing their interest, and support finding a club to join.
Plus, every event organiser who feeds back via the Google Form (link will be sent after your event) before 21 May will be entered into a prize draw to win a metal detector for their club.
Download the Start Archery Week registration form here:

7. Refreshments and shade
The final thing to do is buy refreshments to giveaway/sell. Whether you're doing teas and coffees, squash and cookies, or a full-on finger buffet, try and make sure you have enough for everyone (and have a volunteer runner on-hand to go to the shops and get more in case you run out). Keep any food packaging to hand in case someone asks about the ingredients.
Remember to keep volunteers fed and watered, too. Keep food and drinks separate for them just in case you do run out. If it's going to be hot, think about providing sunscreen and a place for them to take breaks in the shade, and if it's going to rain, make sure they've all got umbrellas.
Have a wonderful Start Archery Week and thank you to all the volunteers out there working to share our sport with the world!
---
We want to hear from you about how your event went so we can continue to improve Start Archery Week and grow our amazing sport.
On Tuesday 23 May, there will be an online gathering to evaluate the event together. Please come and share with us how you felt your events went.