Start Archery Week will take place 14-22 May 2022, a nationwide celebration of all things archery. In the fifth of our weekly club stories about last year's event, Lisburn City AC and NI Performance Academy share what worked well.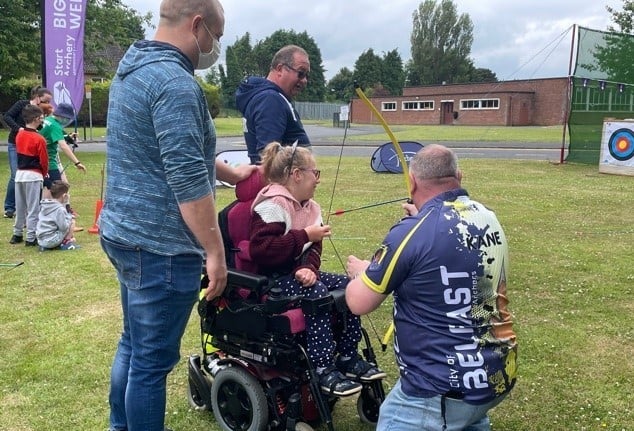 Over the next few weeks, we're highlighting previous Big Weekend/Start Archery Week events that have enjoyed fantastic success. If you're hoping to help your club organise Start Archery Week in May, and are not sure where to begin, look out for these best practice case studies, right up until the event starts.
Last year's Big Weekend was hosted by the Northern Ireland Performance Academy and Lisburn City Archery Club in the grounds of Lisnagarvey High School, which is used by both clubs. The location was ideal to host the event.
Invite local media
The local media and council were informed about the event, which was to introduce the community to the world of archery, promoting it as a safe, accessible sport for all, irrespective of skill, experience or background.
The club provided the range and the equipment and marshalled the participants before entering the range. All the NI Performance Academy members were in uniform to be clearly identifiable. They brilliantly demonstrated just how much fun the sport is, and its adaptability to all.
Showcase archery's accessibility
It was a fabulous day with positive feedback from Academy members and the local community. The Academy archers particularly benefited from learning more about the non-competitive side of their sport. Their enthusiasm was infectious which in return engaged participants, giving them a great introduction to archery.
With more than 200 people in attendance, Lisburn City Archery Club received enough interest to run a further three beginners' courses.  A young girl with cerebral palsy had so much fun that her family signed up for the club's beginners' course, and are now all active, participating members.
The event also had the privilege of the Lord Mayor in attendance which led to further involvement with two local charities working with disadvantaged children, again showing the accessibility of the sport.
Will your club celebrate Start Archery Week?
Please visit our dedicated Start Archery Week webpage for a host of resources, advice and to find out how to enter a range of exciting competitions with fantastic prizes!