Records tumbled as 247 students from 64 colleges and universities went head to head in the 2018 BUCS indoor finals, hosted by the University of Bristol.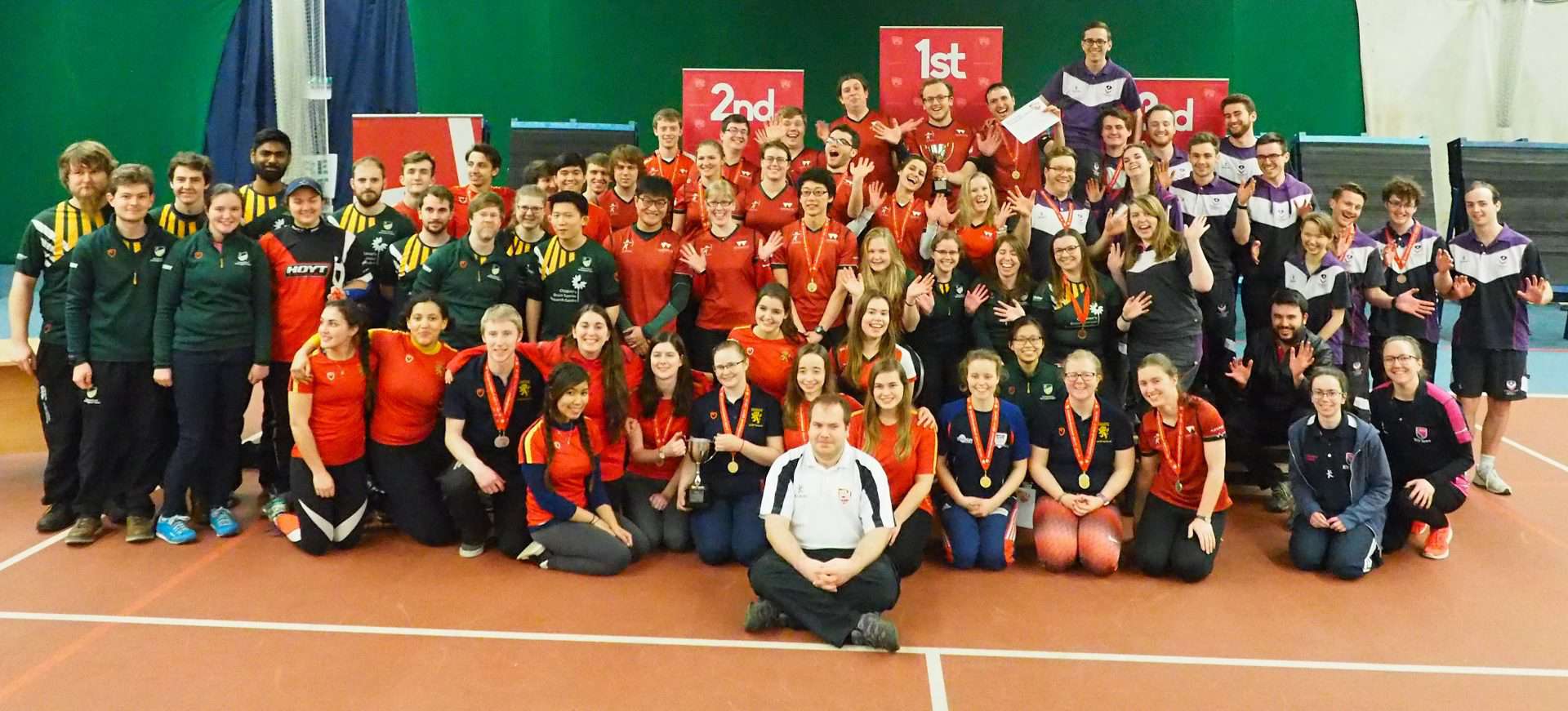 Six records were smashed during the northern and southern qualification events and the first of the final fell to Sarah Shazad of Bournemouth University. She scored 505 to win the women's barebow event, beating Swansea's Rebecca Hill, Malin Schulz of Surrey and Georgia Thirtle of Portsmouth to earn a showdown with seventh seed Amelia Elgey of Birmingham. She, in turn, had beaten Queen Mary's Sruthy Thirunathan, clubmates Pam Quilang and India Wilson and Nottingham Trent's Essi Peuhkuri. But nothing was going to keep Sarah from the title. Georgia took third place.
Sarah Prieels scored 590 to set a new record and win the women's compound title for Edinburgh. The top seed beat St Mary's Dara Palski and Nottingham's Lydia Sinnett-Smith to face fellow international Sarah Moon of Nottingham Trent in the final. It was intense but in the end Sarah won with a score of 148-140. Third seed Izzy Carpenter of Sheffield took gold with a 144-140 win over Lydia.
The third record fell to Edinburgh's Jessica Nirkko in the women's longbow event. The top seed had a bye into the semis where she defeated Central Lancashire's Helen Woodcock. That left her facing third seed Lydia Martin of Keele University - and it was a tough battle but Jessica finally took the title with a 6-4 win. Helen beat Plymouth's Emma King to bronze.
The men's longbow title went to Aberystwyth's Alex Newnes. The top seed beat Alexander Adeyemi of the University of West Scotland 6-0 and the bronze went to Durham's Douglas Morrison with 6-4 win over Exeter's Joe Barham.
Plymouth's Lonja Selter took the men's barebow honours, defeating Teeside's David Cunningham 6-2. Loughborough's William Croydon won the battle for bronze against Chris Norwood of De Montfort University. And Aberystwyth's Chris Cassells beat Edinburgh's Pip Tucknott to men's compound gold. Top seed Andrew Brooks of Staffordshire took bronze.
In the recurve competitions, Derby's Pip Taylor won the women's title, beating Plymouth's Jessica Mooney, Warwick's Hannah Burnage, Eleanor Brug of Cambridge in a shoot-off, Eleanor Piper and then Rebekah Tipping, both Birmingham students. Edinburgh's Johanna Meyer took bronze.
The men's title went to Exeter's Ben Trudgill who swept past Cardiff's Tom Braxton, Loughborough's Christopher Cooper, top seed Tom Hall of Warwick and Southampton's Nick Wilson. That led to a gold medal showdown with Birmingham's Conor Hall and a 6-2 victory. The bronze medal was decided by a shoot-off between Nick and Sherman Ip of Warwick. Nick shot an eight - but Sherman edged it with a nine.
The men's team championship went to Warwick, with Birmingham second and Loughborough third while Birmingham took the women's title, ahead of Warwick and Birmingham.
Edinburgh's Sarah Prieels and Pip Tucknott won the open compound team championship, beating Warwick and Nottingham.
You can find all the results here.
Picture: Malcolm Rees
Follow us on:
Instagram: archerygbofficial
Facebook: Archery GB
Twitter: @archerygb