Welcome to 2017 - and we are off to a cracking start with three athletes named in the New Year's Honours list!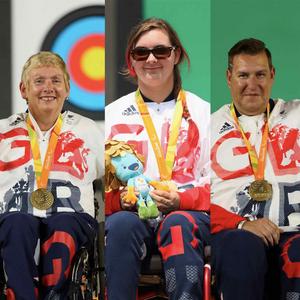 Paralympic gold medallists Jo Frith, Jess Stretton and John Walker have each been made Members of the Order of the British Empire for services to archery, topping off a magnificent 12 months.
John took double gold in his debut Paralympics: individual and W1 mixed team gold with Jo, in the very last match of the archery competition. Jess led Jo and Vicky Jenkins in a glorious clean sweep of gold, silver and bronze - and one of the sport's most iconic moments - at the Sambodromo in Rio.
After hearing about her latest award Jess said: "I am very honoured to have this award given to me and hope to continue my services to archery, inspiring the younger generation to participate in a sport I love."
John said: "I just feel hugely honoured. The MBE is the icing on the cake of a very successful 2015 for me."
Jo said: "I'm overwhelmed to have received the MBE and it has ended a brilliant year. It's the icing on the cake."
And Paralympic head coach Michael Peart could not be more proud. He said: "I'm so pleased our Rio gold medallists have been acknowledged in this prestigious manner. The MBEs really are the perfect end to a great year."
In fact, it has been good news all round. Jess, Jo and Vicky's triumphant podium moment was named the best Paralympic performance in World Archery's unofficial 2016 rankings, with John topping the honourable mentions.
And Mike came second in the coach of the year category, losing out only to Korea's Olympic coach, Moon Hyung Cheol, with Great Britain's Olympic Coach Richard Priestman also earning an honourable mention.
Mike said: "It feels so nice to have this kind of recognition. It truly is flattering. Of course it is a big team effort and I'm happy to share the praise with the whole Rio staffing team. It was a great result built on four years of hard work."
The official coach of the year trophy will be awarded by an expert panel that votes ahead of the World Archery Gala in February.
Follow us on:
Instagram: archerygbofficial
Facebook: Archery GB
Twitter: @archerygb