On Wednesday 2nd November, while most of us were on our way home from work, Paralympic bronze medallist Victoria Rumary was on her way to Buckingham Palace to meet King Charles III, as part of a reception hosting medallists at the Tokyo 2020 Olympic and Paralympic Games. She tells Archery GB all about being nervous, meeting royals, and how her mum made the King laugh.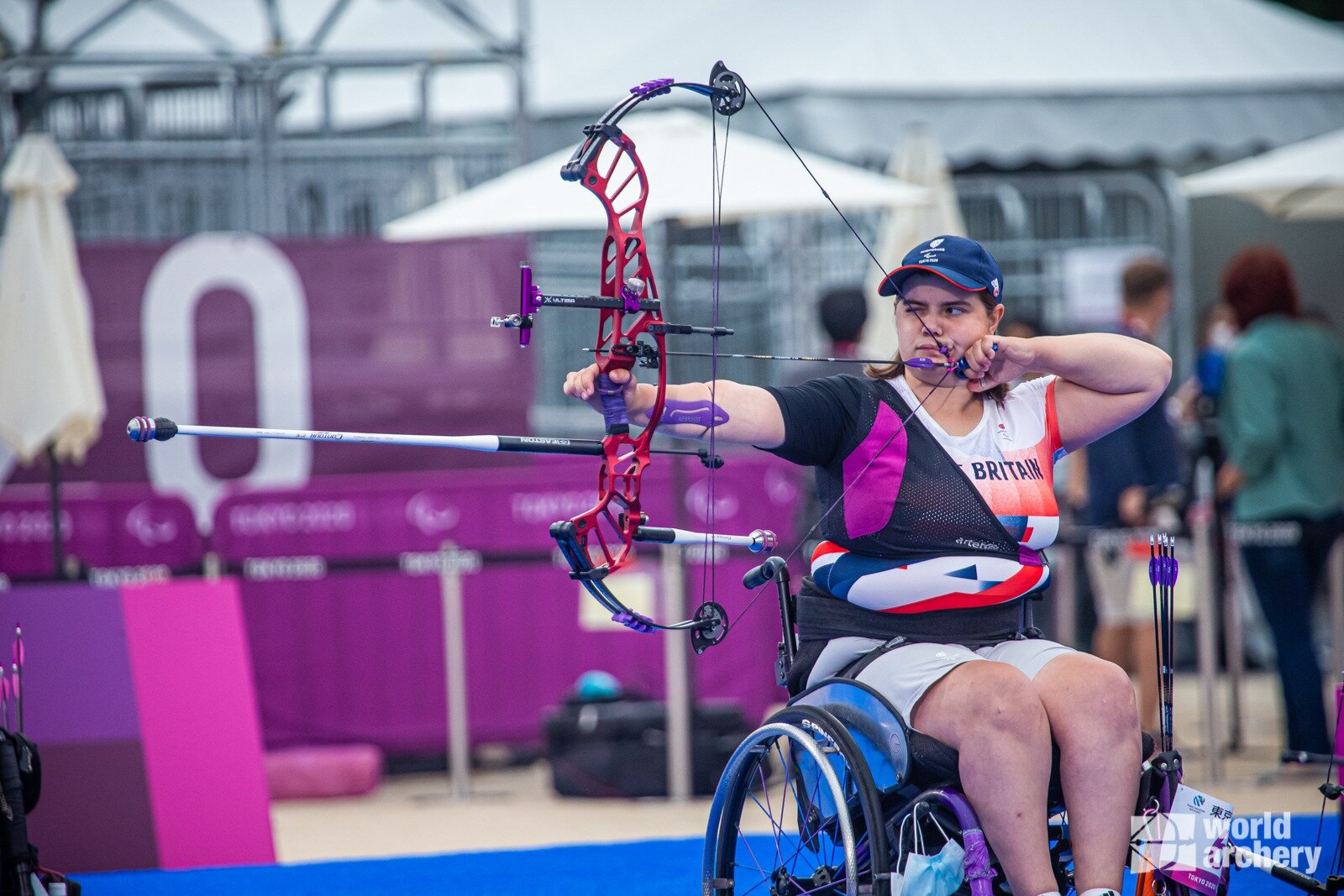 After the wonderful Paralympics Games in Tokyo and the amazing things that have happened since, I never imagined I would receive an invite to a reception at Buckingham Palace. I felt honoured and really excited. Living in North Lincolnshire, I have only been to London a couple of times and never inside Buckingham Palace.
Getting ready for the event, I put on my formal wear from Tokyo 2020. The invitation said we were going to meet HRH Earl of Wessex and HRH The Princess Royal. I had only ever seen them on television and now I would see them in person. On the way to the reception, we travelled along the Mall, passing Clarence House before finally reaching Buckingham Palace. It was so surreal to finally be there in person.
As we went through the Palace gates, I still couldn't believe that it was real, but it was – the difficulty of pushing along the gravel path up to the Palace made it feel a bit more normal, as gravel and wheelchairs don't go well together, but luckily my mum was able to help (thanks, Mum).
We went through one of the archways and across the quadrangle to the entrance we were to use to enter the Palace. After more security checks, we were welcomed by staff, given name badges and a list of what to expect. I heard gasps of surprise from the athletes in front of me and I looked down at the list. It said the King would be attending. WHAT? I asked the staff and they said yes, King Charles III will be attending. OH MY GOSH! The King is coming, I am going to meet the King!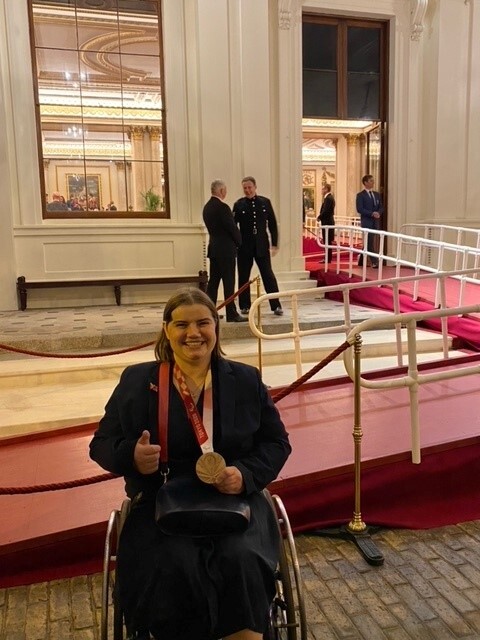 We were lead through to one of the reception rooms. It was so grand and everywhere you looked there were beautiful paintings, ornate walls and grand ceilings edged with golden Tudor roses. I didn't know where to position myself – as most wheelchair users will know we can be terrible for banging our chairs into furniture, door frames, etc – but I found a spot in a corner, where my wheelchair was not close enough to catch anything, and the room soon filled with athletes from both the Olympic and the Paralympic teams.
There were plenty of conversations going on when suddenly it went quiet, and the athletes started to move. I looked through the gaps and saw that HRH Earl of Wessex and HRH The Princess Royal had arrived. They were incredibly friendly to everyone they spoke to.
I was introduced to the Duke of Gloucester, who was very polite and asked about my archery and the distance I shot – he guessed 50 yards and I said close, 50 meters. The Duke smiled and said that it was a good distance away before moving on. I exhaled. I was worried that I might say something wrong, but I didn't and was pleased that he had spoken to me.
I spoke to some other athletes I knew from the Paralympic GB squad and others resumed their conversations too, while the Palace staff kept everyone supplied with drinks and canapés. The room once again fell silent and people started to form a line. When I looked across to the doorway, the King was making his way into the room.
I felt so nervous but at the same time excited. A couple of wheelchair users and I got stuck behind the line of athletes that formed, so we had to move round to the adjoining room to join the end of the line. This second room was as grand as the first, walls lined with fine china plates displayed in glass cabinets.
I could see the King getting closer and closer, and all the time the nerves were growing. He was finally introduced to me and he asked about my sport. When I mentioned archery, he seemed quite surprised and said I was the first archer he had met that day. He asked how far I shot, and when I said 50 meters, he said that is a long way, a bit more of a challenge then, well done. I said thank you, he shook my hand again and was ushered along, but he quickly stepped back and asked my mum if she was an archer too. My mum answered, "Your Majesty, I'm afraid not. I've tried once but I shot the bow down the range instead of the arrow." I explained that my mum had a go at archery and when she was told to shoot, she let go of the bow and kept hold of arrow, resulting in the bow flying down the range. He laughed, and as he moved on, he turned to one of his staff and said that lady shoots bows. So yes, my mum made the King laugh.
What an experience, it was amazing. The staff were all so lovely and kind and to actually talk to the Duke and the King just made it even more special. The King was so lovely and easy to talk to, making me feel totally relaxed.
It felt so special to be representing Paralympics GB again and I couldn't be prouder.