Opening doors to ethnically diverse communities, empowering Muslim communities to learn and grow through the sport of archery. Project Rimaya (the Arabic word for archery) was developed by Archery GB with funding from SportsAid to target Muslim communities, and access a sport which is significant to them. Archery has a long and rich history in Islam, and the sport is helping Muslim communities to feel inspired and united, supporting their physical, mental and spiritual wellbeing.
Opening doors to archery in diverse communities
Project Rimaya is a SportsAid-funded initiative which launched in 2018 at Eden Girls' School in Coventry, Ninestiles Academy and Small Heath Leadership Academy in Birmingham. The project has since grown significantly, and we now have Rimaya partnerships across the country.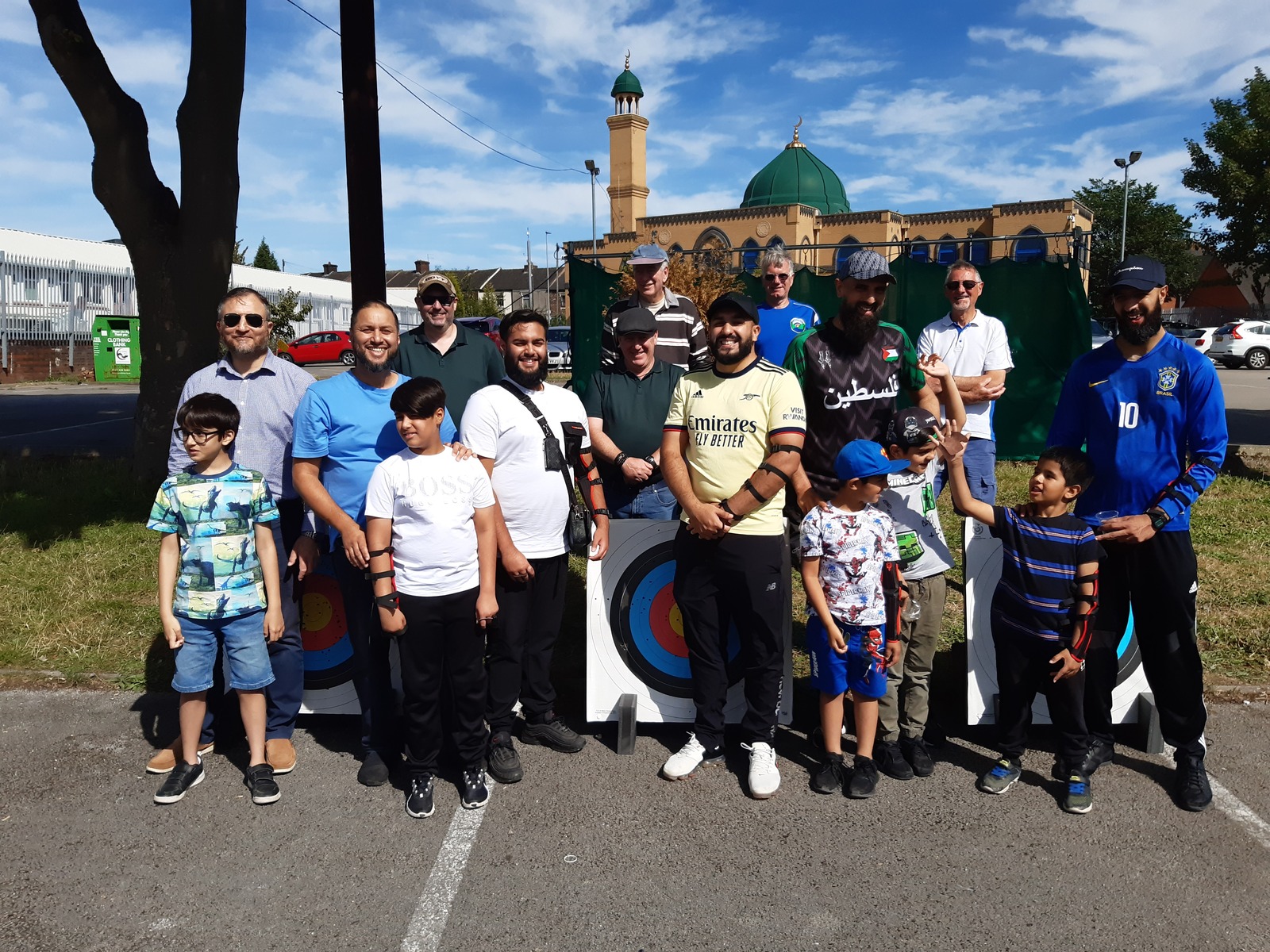 Archery is present in many Islamic texts, being a Sunnah - an activity the Prophet Muhammed specifically recommends
The main Outcomes for Project Rimaya are to:
Increase participation of archery in ethnically diverse communities
Help Archery GB increase our knowledge and insight of archery as a sport and performance sport in ethnically diverse communities
Contribute to making Archery GB a recognised membership organisation for ethnically diverse communities
Increase the number and quality of aligned coaches and volunteers within ethnically diverse communities
Increase competition and progression opportunities for people from ethnically diverse communities
The project expanded from Coventry and Birmingham to east London where Barking RFC and Muslimah Sports Association developed a Project Rimaya partnership at Barking Rugby Club. Since its launch a group of Muslim women have achieved their AGB Instructors Award and are now being mentored to deliver local "Have a Goes" and beginner sessions. We recently worked with the Sport & Recreation Alliance to assess the social 'impact' and 'value' of our Rimaya partnership in Barking.
The analysis has shown that there is significant value in the sessions, both in economic terms and in the social benefits that they bring to participants. Economically, the potential for its return on investment is substantial, with sessions costing significantly less than the amount of 'WELLBY'-associated value that they potentially bring with them.
A marked increase in overall life satisfaction and decrease in overall anxiety mirror the sentiments expressed by participants, who also noted the benefits that archery as a sport brought to them in their wider lives.
Other Project Rimaya partnerships include The Hubb in Sheffield, Rimaya Dewsbury, Sunnah Sports in Derby, The Muslim Sports Foundation, Trent Vally Archers and City Central Masjid in Stoke-on-Trent and Golden Arrow Archery in Luton. We're currently working with new partnerships in Derby, Cardif, Bolton and Bradford.
Project Rimaya - empowering Muslim communities through archery
Another key principle of Project Rimaya is to increase the number and quality of aligned coaches and volunteers within ethnically diverse communities. Rimaya has so far trained 15 British Muslim women to become Archery GB Instructors and is currently training 18 men and women across our partnerships to train as Level 1 Session Coaches.
Sharifa Adam is helping Archery GB expand Project Rimaya into Huddersfield.
She said: "My interest in archery was ignited when I learnt about archery in the history of Islam. It is an art form that unites people and enables mental wellbeing."
Maryam Manjothi is a young ambassador who holds several archery records and has won competitions. She trains at Leicester Archery Academy.
Maryam said: "Archery supports my faith as I am a Muslim and archery is a sunnah (something which is advised and heavily rewarded) especially for women.
Archery is a chance for me to relax and unwind. It's also a fun time to catch up with my archery friends. For me, archery is time out to quite literally release the stress of having to meet certain standards or achieve certain goals, with each arrow."
Archery GB looks forward to seeing young people from Muslim communities progressing to performance level and representing Great Britain at the Olympics and Paralympics
If you are a community leader or school interested in taking part in Project Rimaya, please email Gayle Pink to find out more.