In preparation for Start Archery Week, Dr Rod Flanagan from Burscough Archers shares some steps you can take to make the most of your taster sessions.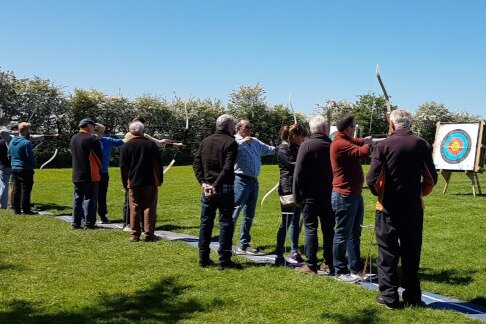 If you're not running tasters, you're missing a trick! In our experience at Burscough Archers, tasters are one of the best tools to fill our beginners' courses and of course, a well-delivered course leads to a run of new members. Here are our suggestions:
Promotion
Website
Make sure that tasters feature strongly and are easily accessed on your website or social media. Promote them as team-building events, as celebration opportunities and as routes into archery.

Local press articles
Exploit social media and your local freesheets with press items about forthcoming and recent events. Unlike advertisements, there is no charge to send a press release to your local news outlets, but you need the magic ingredient: news value. Include relevant photographs and keep it brief.

First response to enquiries, commitment and payment
Have a well-constructed, warm and inviting response to enquiries. Make it easy and secure for them to make a payment. Promptly acknowledge the payment and give easy-to-follow directions to your range.
Delivery
Volunteers and qualified coaches to deliver 1-2-1
You'll need enough coaches or experienced archers to deliver the session one-to-one so that participants don't have to wait for too long. Make sure your coaches and experienced archers float so that all participants get their share of qualified time. Try and make sure your volunteers on the line are knowledgeable, experienced and confident, but also warm and supportive.
Don't underestimate the importance of the Line Captain who needs to be competent and attentive. Their performance will have an impact on the smooth running of the session.
More recent joiners can help with the setting up, answering questions and offering directions, equipment issues during the session (lost arrows, change of arm guard) and stripping down afterwards.
Before the event ensure all the volunteers have a clear picture of what you're trying to achieve: to deliver an enjoyable and informative session that leads to sign-ups for your courses.
Most importantly, don't forget to cater for disabilities.

Welcome on the day
Be sure that the first contact with the attendees is warm, welcoming and supportive. This will generate that all-important first impression; a very powerful influencer when deciding to sign up to a course or not.

During the session
To start off, gather everyone around for an initial briefing and safety chat, followed by a short demonstration. Remember not to treat a taster session like a beginner's course. They're not the same, and while a taster is designed to provide a much more intensive and extensive archery experience than the participant would get from a have-a-go, it's not meant to replace session one of a course.
Try to keep it light and pleasant: you want them to enjoy it but you also want them to feel that they could easily fit in at your club. If you have a Buddy Scheme, don't forget to mention it!
Take pictures on the day of everyone in action (after obtaining permission from everyone) that you can then use in a press release or on your website. Take a group shot at the end. Be sure to celebrate success: someone hits 3 golds? Cheer, take a picture! Finish with a fun-shoot to keep everyone laughing, balloons, pontoon, bake a cake. There are lots of easy ideas out there.
Refreshments at the end can make it a more sociable event. It also gives the volunteers and coaches another opportunity to build relationships and share selling points: there are x-number of spaces on the next beginner's course, you can win badges as you progress, how warm and friendly the club is, etc.
Ask their organiser some questions at the end: Why archery? Why us? Has the session fulfilled/exceeded your expectations? Is there anything we could do to make this better? Will you be signing up for a beginner's course? These sort of questions will help you prepare a suitable press release and offer some valuable feedback for the club.
Follow up
Finally, don't forget to follow up with a warm and encouraging email explaining next steps. If it's a taster, the "how to" for getting on a beginner's course, when they're next on, membership classes and fees, etc.
Follow these steps and you'll be well on your way to running a very successful taster session.
---
If you're running a taster session as part of a Start Archery Week event, make sure your Regional Development Officer knows so that they can support you and your event.
Our Start Archery Week toolkit can also help you promote the event: